Broncos no match for 49ers in Super Bowl XXIV
49ers win back-to-back championships
NFC titlist San Francisco won its fourth Super Bowl championship with a 55-10 victory over AFC champion Denver. The 49ers, who also won Super Bowls XVI, XIX, and XXIII, tied the Pittsburgh Steelers for most Super Bowl victories.
(January 28, 1990) - If the San Francisco 49ers' relentless pounding of the Denver Broncos was starting to bore millions of TV viewers, it certainly wasn't growing old to Joe Montana. He enjoyed the 49ers' eighth touchdown just as much as their first, and he reacted to each one the same way. He pumped his fist wildly in the air, signaled "touchdown" with his arms, then danced a little jig of joy. A kid leaving school for summer vacation couldn't have looked any happier.
You would have thought that Montana, with three Super Bowl victories already to his credit, couldn't get too excited about a fourth triumph. But the essence of these 49ers and their magnificent quarterback was summed up in every one of Montana's dances. They remained driven, focused and determined, even after all these years and all these rings.
"Each Super Bowl becomes more precious," Montana said afterward. "The more, the merrier. They are all sweet, and this was the sweetest yet. It was so much fun, we couldn't wait to get back onto the field."
No wonder. Montana and his 49ers were enjoying one of those games that teams and players dream about, but never really expect to play. They were performing almost flawlessly against an outclassed, outmanned, flawed opponent. It was, ultimately, the greatest mismatch in Super Bowl history, but it also was a stage on which the 49ers could demonstrate how stunning they truly were.
"A dynasty," running back Roger Craig said about his club.
"As good as any Super Bowl winner," safety Ronnie Lott said.
Who could argue? After demolishing the Broncos, 55-10, in Super Bowl XXIV, the 49ers had firmly established a place alongside the elite teams in pro football lore. In winning their second straight National Football League championship, they became the first franchise to repeat since the Pittsburgh Steelers of a decade before. It also was their fourth Super Bowl title in nine years, and only the Steelers had won that many.
"I knew we were great, but I didn't think we were going to be this great," said Lott, who played on all four championship teams. "No question, this is the most talented 49er team I've been on."
It also was a different team, if for no other reason than the fact it was coached not by Bill Walsh, the architect of this franchise, but by George Seifert, who became the most successful rookie coach in NFL history.
As long as Walsh was around, the 49ers were always considered his creation, a group that was raised to another level by his genius. Seifert, the team's longtime defensive coordinator, did a better job of hiding his ego.
"He is the George Bush of coaches," linebacker Michael Walter said. "He did things in a kinder, gentler way. He came down from the ivory tower." Or, as nose tackle Jim Burt put it: "We've gotten away from being one man's deal. This is a players-type Super Bowl."
And those players had barely left the Louisiana Superdome field in New Orleans before they began chanting, "Three-peat, three-peat." They already were thinking about a third straight title, and why not? As long as Montana was healthy, the 49ers looked like they could beat anybody.
The Broncos certainly were no contest -- despite their bold words in the days preceding the game. "This could be the second-greatest upset in sports history," Broncos Coach Dan Reeves had predicted. "We could do what the American hockey team did against the Russians."
Instead, the Broncos suffered their third embarrassing Super Bowl defeat in four years and their fourth overall, tying the Minnesota Vikings for Super Bowl ineptitude. And every beating was worse than the one before: a 27-10 loss to Dallas in Super Bowl XII, a 39-20 loss to the New York Giants in Super Bowl XXI, a 42-10 loss to Washington in Super Bowl XXII and, finally, this 45-point trouncing. The latest busting of the Broncos produced Super Bowl records for the largest margin of victory and for points scored by the winner.
The Broncos certainly didn't think such an outcome was possible when they were preparing for the game. Some even had the audacity to say out loud that they might be able to handle these 49ers despite being 12-point underdogs. The 49ers didn't like what they heard, but they didn't need such bulletin board fodder to give them additional motivation. "All the incentive we needed," offensive tackle Steve Wallace said, "was everyone saying we couldn't repeat because no one had been able to do it for so long."
If any team was to match the achievement of the great Steeler clubs, it had to be one led by Montana, perhaps the greatest quarterback ever. Montana was the trigger of an incredibly versatile offense that had Denver reeling midway through the second quarter. And what was supposed to be the redemption of Broncos quarterback John Elway turned into his most horrid nightmare. The 49er defense confused and stifled him, rendering him virtually useless at a time when Denver needed him to be Superman.
Montana rightfully was named the game's Most Valuable Player -- his third such honor in four Super Bowl appearances -- after demonstrating his magnificence under pressure once again. He completed 22 of 29 attempts for 297 yards and a Super Bowl-record five touchdowns. He also took sole possession of all the major career Super Bowl passing marks, including completions (83), attempts (122), yards (1,142), touchdowns (11) and completion percentage (.680, improving the record he already held). And in four Super Bowls, Montana was never intercepted.
Against Denver, Montana put the finishing touches on a remarkable postseason in which he threw 83 passes without an interception. He completed 65 of them for 800 yards and 11 touchdowns in the 49ers' three playoff games. The 49ers won those contests by a total of 100 points (126-26), something no other club had ever done. That was evidence enough of the gap San Francisco had opened between itself and the rest of the league.
Denver discovered the futility of trying to stop this offensive juggernaut. The 49ers had carved up the Vikings (41-13) and Los Angeles Rams (30-3) in their two prior playoff games with mostly short and medium passes. Ah, said the Broncos, we'll disrupt them by cutting off those routes. OK, answered Montana, we'll unveil our long stuff. Bingo. He tossed touchdown passes of 20, 38, 28 and 35 yards, with a seven-yarder thrown in for good measure.
Forget schemes and tactics and all the intricate stuff. San Francisco simply had better talent on offense than Denver did on defense, and the 49ers executed so well that the Broncos were helpless to stop them. This was a defense that had not given up more than 28 points in a game all season. San Francisco had 27 by halftime.
"Man-to-man, zone, two-deep zone, three-deep zone, everything you could have played," Broncos defensive coordinator Wade Phillips said about his game plan. "They could have lined up in a single wing and we could have put nine men on the line, and we still couldn't have stopped them."
Phillips should have heard 49ers offensive coordinator Mike Holmgren talking about his players. "The last three games," he said, "the guys have really tuned in and played like they are certain everything we do will work. When that happens, it is very, very difficult to stop us."
But this was one time Montana couldn't hog the whole spotlight. Make some room for the 49er defense, which quietly became a significant force over the club's last five games of the year. It held Buffalo to 10 points and shut out Chicago in San Francisco's final two regular-season games, and the Rams managed only 156 yards of offense in the National Football Conference championship game. Then in the Super Bowl, the 49er defense limited the Broncos to 167 yards and Elway to a woeful 10-for-26, 108-yard, two-interception performance- his lowest full-game passing production in more than two years. He was confused, harried and frustrated by the 49ers' quickness, depth and finely tuned schemes, which took away his wide receivers and plugged his scrambling avenues.
"The 49ers combined good coverages with good pressure and I couldn't throw the ball to them (his receivers) or get it completed," Elway said. "I'm definitely disappointed by the way I played."
Elway had wanted this one so badly after spending a long two weeks squirming in Montana's shadow. How do you cope when the other team's quarterback is a football god, seemingly without flaw? Elway already was living with the scars of two previous Super Bowl defeats, and he knew any hopes Denver had in this one rested squarely on his ability to match Montana.
"It seems like every time you come to a Super Bowl, there is too much emphasis placed on the quarterback," he complained. "I guess it comes with the territory. But I don't want to put any more pressure on myself. There's already enough there."
But the pressure built anyway. First, Hall of Fame quarterback Terry Bradshaw opened fire on Elway. "The game, as I see it, is a total mismatch, no contest, no mas," said Bradshaw, the man with four Super Bowl rings. "I don't see any way in the world the 49ers won't win this football game. This sucker could be as bad as 55-3." Why? Elway, of course. "He's been babied all his life," Bradshaw said. "He was babied by his city until this year, and he's been babied by his coaches at least a little bit. I think John Elway needs to get tougher emotionally."
Then, Hall of Famer Johnny Unitas joined in. "Elway doesn't take advantage of his arm," Unitas said. "He waits until the very last split second too much."
Said Elway: "He (Bradshaw) doesn't like the money I make. He can stick it in his ear."
But there was more. A few days before the game, a Washington TV station reported that the NFL drug testing policy was flawed. As an example, the station claimed that three white quarterbacks had tested positive for high levels of cocaine use in the previous 10 years, but their names had not been revealed and they had not been placed in a rehabilitation program. It just so happened that both starting quarterbacks in Super Bowl XXIV were white.
"I'm not worried about it because I know I'm not one of them," Elway said about the report. Still, it was an unneeded irritant that also affected Montana, who had been forced to call a press conference four years before to deny rumors that he used drugs.
"They tried to say this before and I attacked it and challenged it," Montana said. "I know it's untrue, so that's why I'm not worried about it."
But his teammates were concerned enough that they made a point of telling Montana that they knew he was not a drug user and they stood behind him. Montana was touched, but the 49ers were still angry. They were certain that the story had been planted for the sole purpose of throwing off their concentration. "Why else would it come out when it did?" Wallace asked.
Until the TV report, the Broncos had spent most of their time explaining why the odds-makers were a bunch of fools.
"Twelve points? You've got to be kidding me," wide receiver Mark Jackson said. "How do they come up with these things anyway?"
Reeves joked that he'd take the 12 points at the beginning of the game, "but I'm sure they won't give them to me." Even Seifert tried to make light of the spread. "Denver won't say, 'Hey, let's win one for the point spread,'" he said.
But the Broncos were using their role as underdogs to push and prod their preparation. They had convinced themselves this Super Bowl would be different. No more blowouts. No more embarrassments. No more reason for some Denver fans to wish the Broncos hadn't won the American Football Conference championship because they weren't sure the city could take another lopsided loss.
The Broncos' hopes were built largely on a revamped defense. Phillips had turned a finesse, read-on-the-run unit that had been overwhelmed in Super Bowls XXI and XXII into a physical, aggressive bunch.
"This is the first Super Bowl I've been in where the defense is considered important," veteran Denver linebacker Karl Mecklenburg said. "In the first two, the offense had to outscore our opponent for us to have a chance to win. Now, our scheme is more suited to winning a Super Bowl. We used to rely on deception, and any team that has two weeks to prepare for us could figure us out. Now we go after people. It allows us to outplay people."
The keys to Denver's aggressiveness were safeties Dennis Smith and Steve Atwater. They thrived on bouncing receivers around, and both vowed that the 49ers would pay physically for every catch.
"We are going to beat (Jerry) Rice and (John) Taylor up a bit," Smith said. "They really haven't been hit a lot in the playoffs. But when they catch a ball against us, they are going to remember it."
So, the Broncos dared to come out against the 49ers and play them straight up, with hardly any changes in their defensive schemes. What Montana saw in films he saw on the field: an aggressive front line but a soft secondary that relied on zones and the two talented safeties. All Montana needed was enough time and he was sure he could exploit these basic alignments. As it turned out, he got all the time he wanted. He rarely had to hurry a pass and was sacked only once. Even then, Montana was tackled at the line of scrimmage.
But Montana never let himself become overconfident. He wasn't taking any chances because he probably wanted this Super Bowl victory more than he had the previous three. He wanted to show that a team could repeat. He wanted to cap off what already had been the most impressive season of his wonderful career. And he wanted to show he couldn't be distracted-not by the Broncos, by stories about drugs or by tales from his second wife about their stormy marriage and her views of his character.
"I expect a lot from myself," he said. "What was going on was a bunch of crap. I didn't want it to bother me."
Just to make sure, Bronco Hinek, the team's equipment manager, planted a framed picture in Montana's locker. The picture, which Montana had received from his wife, Jennifer, earlier in the season, showed their three children, each of whom was wearing one of his Super Bowl rings. An engraved plate attached to the frame said, "OK, Daddy, the next ring is yours." Hinek also hung Dwight Clark's uniform jersey in the locker next to Montana's. Clark, who retired after the 1987 season, was Montana's best friend on the team. "It was like his spirit was in the room," Montana said.
The jersey and picture were nice ways to ward off distractions, but Montana had proven long before that nothing rattles him, especially in the most important games. In this one, he started a bit slowly, missing his first two receivers. The 49ers were being cautious. Knowing that Denver would be fired up, they didn't want to do anything to heighten the Broncos' emotion. And they didn't.
Montana kept the 49ers' opening drive alive with a 10-yard, third-down scramble to the Broncos' 22-yard line. Two plays later, he waited patiently in the pocket, looked off a couple of receivers and then connected with Rice at the 8-yard line. Atwater smacked into him but bounced off, and Rice stepped into the end zone for the touchdown and, following Mike Cofer's extra-point kick, a 7-0 lead with 10:06 left in the quarter. So much for intimidation.
The Broncos answered with a 42-yard field goal by David Treadwell after stalling at the San Francisco 25. But Denver's game plan, which was designed to control the ball and keep Montana off the field, already was showing cracks. Elway had completed only one of his first seven passes, and that had been a two-yard shovel pass to rookie running back Bobby Humphrey, who turned it into a 27-yard gain. On Elway's first power throw, a long sideline pattern, the ball had bounced two yards short. The strong-armed Elway normally delivered such passes on a line.
"When I saw that," Lott said, "I knew something wasn't right with him. He never bounces that pass."
Things soon got worse for Denver. After forcing the 49ers to punt on their next possession, the Broncos took over at their own 49. But on the first play from scrimmage, Humphrey, who was playing despite cracked ribs, was stripped of the ball and 49ers safety Chet Brooks recovered. If there was any crucial play in this kind of game, this fumble qualified. It drained the Broncos and gave the 49ers great field position at their own 46.
Following an offensive holding penalty, Montana quickly found Rice for 20 yards over the middle -- the Broncos never would shore up that spot -- and then again later for 21 to the Denver 10-yard line. In between, Seifert had his first difficult decision of the game when the 49ers faced a fourth-and-one play at the 35. He didn't hesitate. The 49ers went for it and fullback Tom Rathman bulled for four yards. Five plays later, Montana connected from seven yards out with tight end Brent Jones, who broke through two tackles and scored. Cofer missed the extra point and San Francisco led, 13-3.
On Denver's next possession, the Broncos again had three downs and a punt as Elway threw two more incompletions, giving him eight misfires in 10 tries. He could only watch helplessly as Montana proceeded to drive the 49ers 69 yards in a 14-play drive that consumed more than seven minutes and ended with a one-yard TD run by Rathman. Cofer's kick made it 20-3.
This drive showed another side of the 49er offense: tough and dirty. Either Rathman or Craig was involved in every down but one in the drive, and their contributions were highlighted by a one-handed, reaching-back, nine-yard catch by Rathman at the 3.
If by that time the 49ers were becoming convinced the game was over, Elway did nothing to change their minds. A combination of a fierce pass rush and a lot of bumping on the Broncos' receivers kept Elway out of sync and running for his life. He finished the half with only six completions in 20 attempts for 64 yards, and he didn't complete a pass downfield until two minutes before intermission.
That was hardly good enough to offset Montana, who wrapped up a wonderful opening half by finding Rice wide open down the middle of the field with 34 seconds left. Rice pulled in the 38-yard toss, and the 49ers went into the locker room with a 27-3 advantage.
The 49ers had caught the Broncos in a vulnerable coverage. Taylor ran a slant on one side and Atwater moved to help out. Rice, the secondary receiver, ran a deep post, cutting in front of the other safety, Smith, who couldn't catch up. San Francisco wanted to take advantage of the aggressiveness of the Denver safeties, and this touchdown was a prime example.
"I knew they were good," said Atwater, a rookie, "but by the fourth quarter, I felt we had been up against one of the best teams that ever was."
If anything, the second half was even worse for the Broncos. Elway's first pass landed in Walter's stomach, and Montana used first down to throw 28 yards to Rice for another score. This time, Atwater had moved to help out on Taylor over the middle, leaving Rice one-on-one with cornerback Tyrone Braxton.
"We thought we had a slight advantage with our receivers against their corners," Holmgren said diplomatically.
On the next series, Elway tossed a lame duck that was picked off by Brooks. On second down, Montana exploited the deep middle of the Denver defense again, this time to Taylor for 35 yards and a 41-3 lead. Later, following an 11-play San Francisco drive that was capped by Rathman's three-yard TD run, Elway would fumble and end Daniel Stubbs would return it to the Bronco 1. Craig took it in from there.
Four Denver turnovers, four San Francisco touchdowns. The 49ers had no turnovers.
Elway scored Denver's only touchdown on a three-yard keeper midway through the third quarter. But there was no celebration on the Broncos' sideline. The score took little sting out of the whipping they were receiving. Besides seeing their own defense decimated by Montana, Rice, Taylor, Craig, Rathman and, eventually, a cast of substitutes, the Broncos also had to watch San Francisco's defense play so well that Elway couldn't even scramble. The 49ers had completed a total shutdown of one of the league's most precious talents.
"I'm just trying to figure out how we can win one of these one of these days, or at least be in one," Elway said. Indeed, the Broncos hadn't just lost their fourth Super Bowl. They had failed for the fourth time to even make a game of it.
"I think the 49ers are playing as well as anybody ever has," said a drained Reeves. "They are playing at a level that is incredible. We've got a long way to go to get to that level. I'm disappointed because of the people we let down. When you come up like this, life is awfully cruel and it's tough to handle."
But winning was wonderful for the 49ers -- even if it was becoming old hat. For five players, winning meant a fourth Super Bowl ring. One of those players, linebacker Keena Turner, talked about each of those clubs.
"The '81 team was young and naive, a team that wanted some respect," he said. "The '84 club was more of a veteran team with guys like (defensive end) Fred Dean and (linebacker) Hacksaw Reynolds. It was confident. The '88 team was on the ropes all the time, but it wouldn't fall. This team has really been able to focus on the matter at hand. We could be back."
Seifert deserved much of the credit for that focus. The players liked him, and they wanted to win for him and his warmer-than-Walsh approach to coaching. Also worthy of credit for the 49ers' lasting success was the uniqueness of the organization. This was a team with an owner, Eddie DeBartolo, who was willing to pay his players well, train them at the most lavish practice facility in the league, fly them ultra first class and take an interest in their well being.
Combine all that with an astute scouting staff and a front office willing to take on the salaries of such castoff veterans as Burt and linebacker Matt Millen -- both of whom had Super Bowl rings from their days with the Giants and Raiders, respectively -- and the 49ers had a big edge over most NFL clubs. They had no intention of letting all that go to waste.
"We came down here on a mission," the normally unemotional Montana said. "When you get a chance to win a Super Bowl, no matter how many rings you have, you don't want to blow the opportunity."
They didn't.
* Article from The Sporting News
Super Bowl XXIV
Louisiana Superdome
New Orleans, Louisiana
Kickoff: 4:00 PM CT
Attendance: 72,919
Line: San Francisco 49ers -13.0
Over/Under: 48.0 (over)
MVP: QB Joe Montana
Head Coach: George Seifert
San Francisco 49ers

Denver Broncos

Q1

13

3

Q2

14

0

Q3

14

7

Q4

14

0

F

55

10
1989 Schedule (17-2)
@Colts
W
30-24
@Buccaneers
W
20-16
@Eagles
W
38-28
Rams
L
12-13
@Saints
W
24-20
@Cowboys
W
31-14
Patriots
W
37-20
@Jets
W
23-10
Saints
W
31-13
Falcons
W
45-3
Packers
L
17-21
Giants
W
34-24
@Falcons
W
23-10
@Rams
W
30-27
Bills
W
21-10
Bears
W
26-0
NFC Divisional Playoff
Vikings
W
41-13
NFC Championship
Rams
W
30-3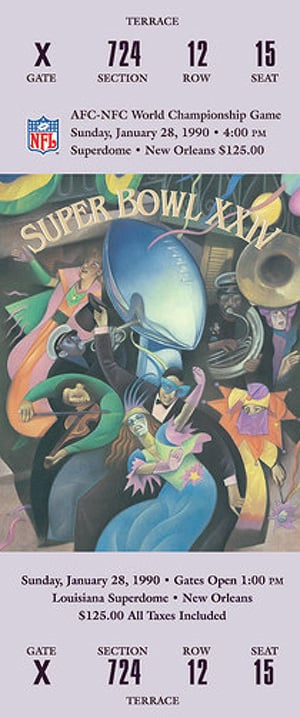 49ers Offense
C
Sapolu, Jesse
G
Collie, Bruce
G
McIntyre, Guy
T
Barton, Harris
T
Paris, Bubba
TE
Jones, Brent
WR
Rice, Jerry
WR
Taylor, John
RB
Craig, Roger
RB
Rathman, Tom
QB
Montana, Joe
Broncos Offense
C
Kartz, Keith
G
Juriga, Jim
G
Widell, Doug
T
Lanier, Ken
T
Perry, Gerald
TE
Mobley, Orson
WR
Jackson, Mark
WR
Johnson, Vance
RB
Humphrey, Bobby
RB
Sewell, Steven
QB
Elway, John
49ers Defense
NT
Carter, Michael
DE
Fagan, Kevin
DE
Holt, Pierce
OLB
Haley, Charles
OLB
Turner, Keena
ILB
Millen, Matt
ILB
Walter, Michael
CB
Griffin, Don
CB
Pollard, Darryl
FS
Lott, Ronnie
SS
Brooks, Chet
Broncos Defense
NT
Kragen, Greg
DE
Carreker, Alphonso
DE
Holmes, Ron
OLB
Brooks, Michael
OLB
Fletcher, Simon
ILB
Dennison, Rick
ILB
Mecklenburg, Karl
CB
Braxton, Tyrone
CB
Henderson, Wymon
FS
Atwater, Steve
SS
Smith, Dennis
Scoring Summary
1st Quarter
SF - Rice 20 pass from Montana (Cofer kick) (4:54)
DEN - FG Treadwell 42 (8:13)
SF - Jones 7 pass from Montana (kick failed) (14:57)
2nd Quarter
SF - Rathman 1 run (Cofer kick) (7:45)
SF - Rice 38 pass from Montana (Cofer kick) (14:26)
3rd Quarter
SF - Rice 28 pass from Montana (Cofer kick) (2:12)
SF - Taylor 35 pass from Montana (Cofer kick) (5:16)
DEN - Elway 3 run (Treadwell kick) (8:07)
4th Quarter
SF - Rathman 3 run (Cofer kick) (0:03)
SF - Craig 1 run (Cofer kick) (1:13)
49ers Roster
| No | Name | Pos | Ht | Wt | Exp | College |
| --- | --- | --- | --- | --- | --- | --- |
| 79 | Barton, Harris | T | 6-4 | 280 | 3 | North Cirolina |
| 13 | Bono, Steve | QB | 6-4 | 215 | 5 | UCLA |
| 64 | Burt, Jim | NT | 6-1 | 260 | 9 | Miami |
| 31 | Brooks, Chet | S | 5-11 | 191 | 2 | Texas A&M |
| 95 | Carter, Michael | NT | 6-2 | 285 | 6 | SMU |
| 6 | Cofer, Mike | K | 6-1 | 190 | 2 | North Carolina State |
| 69 | Collie, Bruce | G-T | 6-6 | 275 | 5 | Texas-Arlington |
| 33 | Craig, Roger | RB | 6-0 | 214 | 7 | Nebraska |
| 59 | DeLong, Keith | LB | 6-2 | 235 | R | Tennessee |
| 75 | Fagan, Kevin | DE | 6-4 | 265 | 3 | Miami |
| 32 | Flagler, Terrence | RB | 6-0 | 200 | 3 | Clemson |
| 98 | Goss, Antonio | LB | 6-4 | 228 | R | North Carolina |
| 29 | Griffin, Don | CB | 6-0 | 176 | 4 | Middle Tennessee St. |
| 94 | Haley, Charles | LB-DE | 6-5 | 230 | 4 | James Madison |
| 9 | Helton, Barry | P | 6-3 | 205 | 2 | Colorado |
| 30 | Henderson, Keith | RB | 6-1 | 220 | R | Georgia |
| 56 | Hendrickson, Steve | LB | 6-0 | 245 | R | California |
| 78 | Holt, Pierce | DE | 6-4 | 280 | 2 | Angelo State |
| 40 | Jackson, Johnny | S | 6-1 | 204 | R | Houston |
| 84 | Jones, Brent | TE | 6-4 | 230 | 3 | Santa Clara |
| 67 | Kugler, Pete | NT | 6-4 | 255 | 7 | Penn State |
| 42 | Lott, Ronnie | S | 6-0 | 200 | 9 | USC |
| 62 | McIntyre, Guy | G | 6-3 | 265 | 6 | Georgia |
| 22 | McKyer, Tim | CB | 6-0 | 174 | 4 | Texas-Arlington |
| 54 | Millen, Matt | LB | 6-2 | 245 | 0 | Penn State |
| 16 | Montana, Joe | QB | 6-2 | 195 | 1 | Notre Dame |
| 77 | Paris, Bubba | T | 6-6 | 299 | 7 | Michigan |
| 26 | Pollard, Darryl | CB | 5-11 | 187 | 3 | Weber State |
| 44 | Rathman, Tom | RB | 6-1 | 232 | 4 | Nebraska |
| 80 | Rice, Jerry | WR | 6-2 | 200 | 5 | Mississippi Valley St. |
| 91 | Roberts, Larry | DE | 6-3 | 275 | 4 | Alabama |
| 53 | Romanowski, Bill | LB | 6-4 | 231 | 2 | Boston College |
| 61 | Sapolu, Jesse | C-G | 6-4 | 260 | 4 | Hawaii |
| 88 | Sherrard, Mike | WR | 6-2 | 187 | 2 | UCLA |
| 96 | Stubbs, Daniel | DE | 6-4 | 260 | 2 | Miami |
| 66 | Tausch, Terry | G | 6-5 | 276 | 8 | Texas |
| 82 | Taylor, John | WR | 6-1 | 185 | 3 | Delaware State |
| 60 | Thomas, Chuck | C-G | 6-3 | 280 | 4 | Oklahoma |
| 23 | Tillman, Spencer | RB | 5-11 | 206 | 3 | Oklahoma |
| 58 | Turner, Keena | LB | 6-2 | 222 | 10 | Purdue |
| 74 | Wallace, Steve | T | 6-5 | 276 | 4 | Auburn |
| 89 | Walls, Wesley | TE | 6-5 | 246 | R | Mississippi |
| 99 | Walter, Michael | LB | 6-3 | 238 | 7 | Oregon |
| 81 | Williams, Jamie | TE | 6-4 | 245 | 7 | Nebraska |
| 85 | Wilson, Mike | WR | 6-3 | 215 | 9 | Washington State |
| 21 | Wright, Eric | CB | 6-1 | 185 | 8 | Missouri |
| 8 | Young, Steve | QB | 6-2 | 200 | 5 | BYU |
Team Statistics
| | | |
| --- | --- | --- |
| Total First Downs | 28 | 12 |
| Rushing | 14 | 5 |
| Passing | 14 | 6 |
| Penalty | 0 | 1 |
| Total Net Yardage | 461 | 167 |
| Total Offensive Plays | 77 | 52 |
| Avg. Gain per Offensive Play | 6.0 | 3.2 |
| Rushes | 44 | 17 |
| Yards Gained Rushing (Net) | 144 | 64 |
| Average Yards per Rush | 3.3 | 3.8 |
| Passes Attempted | 32 | 29 |
| Passes Completed | 24 | 11 |
| Had Intercepted | 0 | 2 |
| Tackled Attempting to Pass | 1 | 6 |
| Yards Lost Attempting to Pass | 0 | 33 |
| Yards Gained Passing (Net) | 317 | 103 |
| Punts | 4 | 6 |
| Average Distance | 39.5 | 38.5 |
| Punt Returns | 3 | 2 |
| Punt Return Yardage | 38 | 11 |
| Kickoff Returns | 3 | 9 |
| Kickoff Return Yardage | 49 | 196 |
| Interception Return Yardage | 42 | 0 |
| Fumbles | 0 | 3 |
| Own Fumbles Recovered | 0 | 1 |
| Opponent Fumbles Recovered | 2 | 0 |
| Penalties | 4 | 0 |
| Yards Penalized | 38 | 0 |
| Total Points Scored | 55 | 10 |
| Touchdowns | 8 | 1 |
| Rushing | 3 | 1 |
| Passing | 5 | 0 |
| Returns | 0 | 0 |
| Extra Points | 7 | 1 |
| Field Goals | 0 | 1 |
| Field Goals Attempted | 0 | 1 |
| Safeties | 0 | 0 |
| Third-Down Efficiency | 8/15 | 3/11 |
| Fourth-Down Efficiency | 2/2 | 0/0 |
| Time of Possession | 39:31 | 20:29 |
Individual Statistics
Rushing

San Francisco

TD

LG

Yds

No

Craig

1

18

69

20

Rathman

2

18

38

11

Montana

0

10

15

2

Flagler

0

10

14

6

Young

0

11

6

4

Sydney

0

2

2

1

Denver

TD

LG

Yds

No

Humphrey

0

34

61

12

Elway

1

3t

8

4

Winder

0

5

-5

1

Passing

San Francisco

Int

TD

Yds

Comp

Att

Montana

0

5

297

22

29

Young

0

0

20

2

3

Denver

Int

TD

Yds

Comp

Att

Elway

2

0

108

10

26

Kubiak

0

0

28

1

3

Receiving

San Francisco

TD

LG

Yds

No

Rice

3

38t

148

7

Craig

0

12

34

5

Rathman

0

18

43

4

Taylor

1

35t

49

3

Sherrard

0

13

13

1

Walls

0

9

9

1

Jones

1

7t

7

1

Sydney

0

7

7

1

Williams

0

7

7

1

Denver

TD

LG

Yds

No

Humphrey

0

27

38

3

Sewell

0

12

22

2

Johnson

0

13

21

2

Nattiel

0

28

28

1

Bratton

0

14

14

1

Winder

0

7

7

1

Kay

0

6

6

1

Interceptions

San Francisco

TD

LG

Yds

No

Brooks

0

38

38

1

Walter

0

4

4

1

Denver

TD

LG

Yds

No

None

--

--

--

--

Punting

San Francisco

Blk

LG

Avg

No

Helton

0

47

39.5

4

Denver

Blk

LG

Avg

No

Horan

0

43

38.5

6

Punt Returns

San Francisco

TD

LG

Yds

FC

No

Taylor

0

17

38

2

3

Denver

TD

LG

Yds

FC

No

Johnson

0

7

11

1

2

Kickoff Returns

San Francisco

TD

LG

Yds

No

Flagler

0

22

49

3

Denver

TD

LG

Yds

No

Carrington

0

39

146

6

Bell

0

24

41

2

Bratton

0

9

9

1